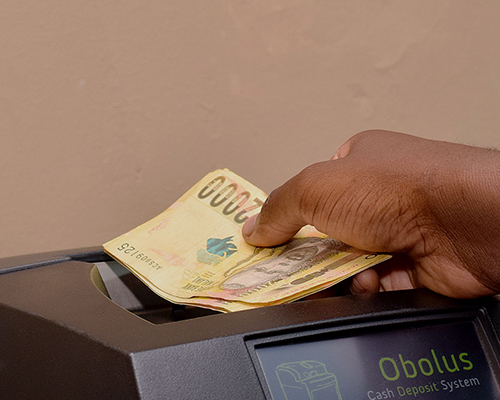 A Cash deposit Machine (CDM) is an automated self-service solution, which allows you to deposit money into any valid Standard Bank account. It allows an easy and convenient way to deposit money taking the hassle out of visiting a branch. Currently the machines are available in Mzuzu, Lilongwe Branch, Capital City branch, City Mall, Blantyre Branch, Ginnery Corner, Chichiri Mall and Zomba branch. Every CDM Room has instructions on how to deposit cash and how to clear any notes that have jammed.
Some of the benefits
Cardless Transactions
Withdraw cash, send cash token to others or deposit cash
Deposit Money
Make cash deposits to any Standard Bank account outside of normal banking hours.
Quick Transactions
Quick and easy banking on your phone by following the menu prompts, whenever you want. Dial *247#
Easy to use
Send money to any phone number. No need for a bank account.
Denomination allowed on a CDM
These are the notes that a cash deposit machine can take;
MK 2000
MK 1000
MK 500
MK 200
MK 100
What it does not take
CDM doesn't take coins
CDM Doesn't take notes with seal tape
CDM Doesn't take folded notes
Customers to remove pins, money clips & rubber bands

Minimal time spent in queues
Self-service so you can do it yourself
Available 24/7 for your convenience
Real time value after deposit of cash
Quicker turn-around times because of reduced queues and waiting time (should be replaced with Money reflects in the account immediately)
Quick transaction processing (should be replaced with easy to use)
Cardless deposit – which means that you can make a deposit without a card
Make bulk deposits of up to 100 notes per deposit
A total of 600 notes can be processed in a minute
Denomination allowed on a CDM

What you get

What you can do
These are the notes that a cash deposit machine can take;
MK 2000
MK 1000
MK 500
MK 200
MK 100
What it does not take
CDM doesn't take coins
CDM Doesn't take notes with seal tape
CDM Doesn't take folded notes
Customers to remove pins, money clips & rubber bands

Minimal time spent in queues
Self-service so you can do it yourself
Available 24/7 for your convenience
Real time value after deposit of cash
Quicker turn-around times because of reduced queues and waiting time (should be replaced with Money reflects in the account immediately)
Quick transaction processing (should be replaced with easy to use)
Cardless deposit – which means that you can make a deposit without a card
Make bulk deposits of up to 100 notes per deposit
A total of 600 notes can be processed in a minute